An ARC was provided by the publisher via Netgalley for an honest review. Thank you!

CONTENT WARNING: Due to adult sexual situations and language, this novel may not be appropriate for readers under 18.
If you are looking for an intense, passionate love so wrong it is right, a story about losing your way but clawing desperately at any chance to find your way back, about hanging on to your last shred of sanity and trusting someone enough to let go of your fears, look no further. No One's Angel's angel is a New Adult (NA) Contemporary Romance about a girl learning to fight back and a boy learning to let go.



Tess used to spend more hours than she'd care to admit playing her favorite computer game, using the nickname Angel. She could pretend her life was different, and she could pretend Arion was just a friend. But a girl needs more to keep her warm at night than pixels, and she traded her virtual heaven for a real-life hell. Now she's on the run from a past she won't talk about, and the only place she has to go is the doorstep of the friend she's never actually met.

When Angel disappeared from their nightly games, it nearly destroyed Arion. He threw himself into work and women, but he can't help knowing the one-night stands will never compare to the angel who haunts his dreams. At first, when she shows up soaking wet and scared-shitless on his doorstep, he thinks his prayers have been answered.

But the more Arion tries to keep Angel close, the more her fear drives her away. If they are ever going to have a chance for a future, they'll first have to deal with the past that hasn't forgotten her any more than she's forgotten it--and Arion will have to learn how to let her go.
You might not know this about me but I love watching people play video games. I used to play games but they were never the storytelling kind like Final Fantasy or the like. Ok, maybe Zelda back in the day. The thing is I was never really good at playing these games and I found more joy in watching others that could unfold the tale for me. With that said I was also a witness to how gamers who communicate with one another every day for hours a day can totally get close, even on a romantic level.
When I saw the cover of this book and then the premise I just had to dive right in...even after I had convinced myself to stay away from the New Adult genre for a little bit.
I really am glad I didn't stay away from this one.
Tess and Axel met years ago while playing an online computer game. Their game handles were "Angel" and "Arion". I might just refer to them as Angel and Arion since that is what they continually called each other while around one another. So, yeah, Angel and Arion's gaming friendship blossomed into a real life friendship offline but never felt real enough to really call a relationship because of the physical distance. Angel finds herself a boyfriend, the abusive kind and goes offline without any warning and stops all texting and calls to Arion as well. This sends Arion into self-destruct mode. We fast forward to a year later when Arion is finally feeling a bit more normal and Angel is running scared and broken and knocking on Arion's door. Literally.
* You're thrust into this storyline right away. No easing your way in. You are literally riding the

wave

of emotions and uncovering mysteries as they are revealed. No

hints other

than

you know Angel has gone through something very bad and Arion desperately wants to fix it because he doesn't want her to go.
* I found this story incredibly believable on many levels. The author took great care in really understanding and then interpreting the aftermath of abuse. You couldn't help but to feel all of Angel's raw feelings and understand why she was so broken. There are so many aspects to abuse that even the most understanding people can't truly comprehend unless they've been through it themselves. The embarrassment of allowing yourself to be abused and for the length of time it lasted, the burden of not telling anyone because of the embarrassment but also because you don't want to get anyone else hurt by getting them involved, feeling utterly alone because you have to isolate yourself, the pain you feel not knowing if you'll ever be the same and the anger that comes along with it knowing that something like this could change you and you might not find your old self again, the helplessness in not knowing when you can get out of it and again the anger of not having gotten out of it sooner.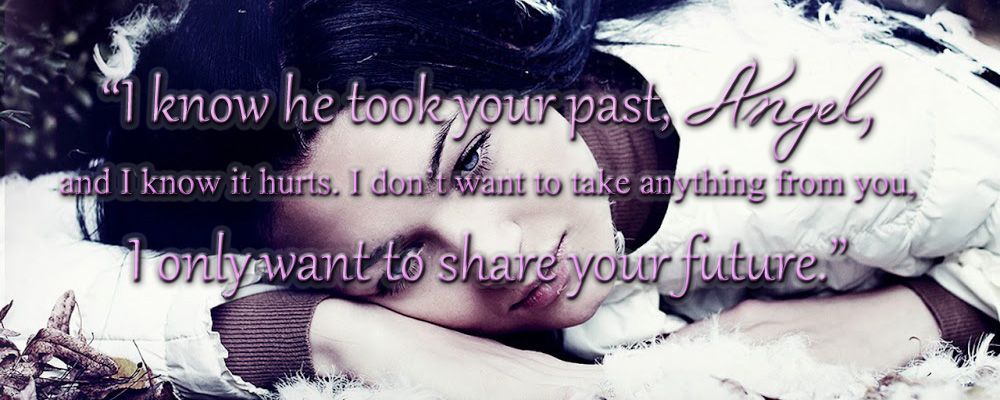 * I rarely swoon over a hero. I can actually name on one hand all of the heroes that stay with me long after a read and furthermore can continuously fantasize about. Arion/Axel did it for me. He was a sweet gentleman with the right amount of raunchy. He was respectful, kind and patient. He was smart, had his shit together, a business owner all at the age of 23 and a caretaker. His wanting to keep Angel safe could have been interpreted by some as being possessive but I didn't get that vibe. He really wanted to keep her safe and because Angel was so jacked up she couldn't look beyond her recent experiences. He was a stand up guy.
* This read was intense! You felt the intrigue and I often found myself anxiously expecting something really bad to happen at any moment. It had all of this but it was still a lighter read, not as heavy, not super depressing. You felt for Angel and you don't really know all of the details of her abuse until much later in the book but along the way you weren't distracted by an overly heavy feel. I hope this makes sense.
* The romance was definitely hot, believable and exciting! I think anyone with an imagination can easily place themselves in a situation where they were totally taken by someone and can relate to the anticipation of finally meeting them and being physically in their world.
* All of the supporting characters were pretty great. I wouldn't mind reading a book where Chelsea, Arion's sister, was the protagonist.
* My only complaint about this one was that there were instances where Angel would flip flop at times where she would want Arion and then not and vice versa all in one sentence. It was a bit annoying. It didn't happen often enough but still drew out eye rolls from me.
I loved the book! It was a page turner and kept me up all night into the wee hours of the morning until I finished it. It's a book that I will be sure to read again and I can't wait to add it to my bookshelf.
I would like to believe that as lovers of the written word and imagination, we can open our minds and hearts to the possibility that a relationship like this one can exist. You won't get a lot of flashbacks to establish the great attraction that grew between Angel and Arion via their gaming days. Angel has changed because of the abuse inflicted on her for a year. We get a different Angel than the one Arion knew. Even then, it doesn't take much to imagine two people talking every single day and getting to know one another to the point that they start to care for one another. Before the internet you had pen pals. So, this to me is not a new concept. Some people might find it hard to believe that you can find love on the internet or via letters. What they tend to forget is that when there is a bit of freedom to be who you are and/or want to be without the pressure of face to face awkwardness, you can find comfort and friendship that eventually can lead to love.
Keep an open mind and heart and I think you'll enjoy No One's Angel very much.